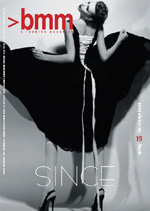 Grazia Verasani | Simona Vinci
Changing between the lines
Paolo Ruggiero
It does us good to reread books that have given us something.
The first time round we are bowled over by the "sound" of intrigue, settings and characters. The second time, however, it you notice, you can also pick out the writer's voice.
As soon as I'd finished it I wanted to reread Tracce del tuo passaggio, an anthology of short stories by Grazia Verasani published in 2002. And I'd already met Giorgia Cantini, the listless private investigator of her later novels Quo vadis, Baby? and Velocemente da nessuna parte.
Moving onto Simona Vinci, upon finishing her latest book Stanza 411, I wanted to reread another work of hers from '99 entitled In tutti i sensi come l'amore, to rediscover the unchanged clarity and transparent light of certain descriptions: city days in which nothing seems to change, and yet... Upon re-reading them I thought these two writers were completely different to one another. Verasani lucid, frank, human, endearingly (or bitterly) disillusioned. Vinci oneiric, self-analytical, sensorial, moody.
However, on the page these women come across as extremely sensitive, tortured. "Violent", too, in some passages. Both are capable of making a contradiction or a shift in outlook work like electric shocks or revelations. So it was a pleasure to hear them discuss "changes" together.
Do you remember a pivotal year, age or an event that led to the opening of a different perception of things, emotions or persons for you?
Grazia: Yes, when I was seventeen I was about to fall from the fifth floor of a building while chasing a pigeon that was eating at my window. He turned up at the wrong window and ended up as the neighbour's dinner. Months later I tried to fly, but I was saved in extremis by the arm of someone or other.
Simona: I have a natural tendency to think that decisive things will happen the following day. I definitely went through a rough patch a couple of years ago for many reasons. However, it was a period that opened up a new chapter in my life, both on a private and professional level. The life I lead now is more me and I'm far less afraid of many things.
A book, a writer, a journey which brought out a new awareness in you...
G: The writer who influenced me most as a person and in my writing is Robert Walser, particularly his Jakob von Gunten. I recommend his books to everyone. He is the classic example of a writer who has to die with his face in the snow, outside the mental home where he had lived for forty years, before achieving "fame". He is also a warning that one always writes out of necessity and never for fame, either during one's lifetime or posthumously.
S: A meeting, I think. With a writer – Vitaliano Trevisan – whom I read first then I met, and who helped me, albeit indirectly, to draw out the things that wanted to come out, but about which I had no distinct ideas. Jung, too, and psychoanalysis, opened up new and beautiful paths for me. Among the most influential books, I could say Bataille's literature, which still continues to influence me greatly, and some of Coetzee's novels.
Both of you as writers emerged during the second half of the Nineties. How do you feel narrative (including fictional characters) has changed since and where do you think it is headed?
G: The territories of visibility are increasingly of the televisioned kind. More and more books are being published. However, the greatest ones are killed off by the mountain of best-sellers.
S: I don't really follow it all much, I must confess. I read precious little narrative works, but I devour essays and poetry. Although one of the most recent books to really get to me was Gomorra by Roberto Saviano. I believe that Italian literature is discovering that perhaps it should soil its hands and injure its eyes with reality. Also, the contamination of genres seems to me to be the most exciting and fertile prospect.
And your writing? What do you feel has changed from your beginnings to the present day?
G: My goal is simplicity. I'm working on it.
S: I wouldn't know. Your remain yourself even though you are changing all the time. I'd go as far as to say that you become more like yourself. That is the nicest thing about getting old – when you can do it gracefully in life and in writing.
Among the many mutations that a sentiment may undergo, which do you find the most fascinating? Which do you find the most elusive and indescribable?
G: I think it's the constancy of a sentiment, whatever the sentiment.
S: From nothing to love. Love generates all the time, all around us. Even though it often hides very well. And disguises itself.
Do you prefer writing about drastic, violent, desired changes with which to steer one's existence, or those that are almost always gradual and gentle, administered to us by our existence and by time like sleeping draughts?
G: I do not like challenges. I do not like rage or pride. Changes can be quick or slow, they may be guided by instinct or through realization.
S: I don't know, I think every story has its own genesis and pace. However, by nature, I tend to go for drastic, violent leap-in-the-dark things.
How often have you told yourselves (or do you tell yourselves) that tomorrow you'll turn over a new leaf?
S: Never, life changes by itself, and I don't know how to make plans. I prefer to trust to impulse.
G: I prefer to hope that important things that concern all of us will change. As far as I'm concerned, it is time that changes me.
BMM - a fashion magazine
N.19 - "The change issue"